Jog Belfast
Project
Jog Belfast is a FREE 10 week 'Couch to 5k' programme running throughout Belfast.
The programme introduces people who are currently inactive to running, through a 10 week programme to take them from the couch to being able to run 5k
The coach lead programme progresses each week, beginning with long periods of walking with short intervals of running, gradually the running periods are increased.
Over the 10 weeks as fitness and physical ability improve, the participants are able to complete a 5k Parkrun on the final week. Many people go on to continue running and even participate in marathons!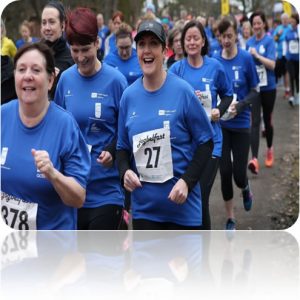 How to Take Part
Location/Venue – Ormeau Park
Start/End Date – Check www.ActiveNI.org for programme dates.
Audience – Open to people of all backgrounds and abilities.

Project Outcomes
Jog Belfast operates three phases throughout the year with each phase attracting around 1,000 registrations for 600-700 places.
Jog Belfast encourages those who are less likely to be physically active. So far 12% of participants have had a disability and 90.5% of participants are women.
Testimonials from people who have completed the programme highlight its success.
"Loved every session. Coaches so enthusiastic and encouraging to everyone no matter what their level. I really did go from couch to 5k and look forward to improving my times week by week." — JogBelfast Ormeau Graduate