Pledge 4 – Strengthen connections to and within the health sector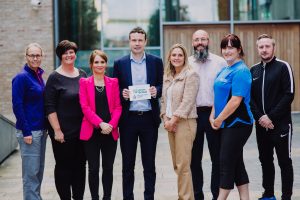 We will work with the health sector and other partners, to develop new and enhance existing models of physical activity referral schemes, including implementing regional policy on physical activity referral and developing new condition specific pathways. We will ensure all programmes promote behaviour change through providing both practical brief advice and community based opportunities for participation in physical activity.
Within Active Belfast, we consider our pledge 4 "to strengthen connections to and within the health sector" paramount to our work. This includes implementing a range of Physical Activity Referral Programmes delivered by specialist coaches throughout Belfast and beyond.
The benefits of physical activity are extensive with evidence linking physical activity to improved overall health and wellbeing. It helps in preventing and managing many health conditions and diseases including coronary heart disease, stroke, diabetes, cancer and promote mental and emotional wellbeing.
Click below for more information on each of the Physical Activity Referral Programmes:
Click to see our full Physical Activity Referral Care Pathway.
Please contact bsp@bhdu.org  for further information.