Pledge 4 – Physical Activity Referral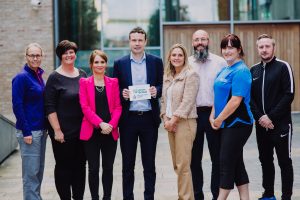 The benefits of physical activity are well founded with evidence linking physical activity to improved health and wellbeing. It helps in preventing and managing many health conditions and diseases including coronary heart disease, stroke, diabetes and cancer.
Healthwise is an Active Belfast initiative that your GP or Healthcare Professional can refer you to. The aim of Healthwise is to introduce people who are inactive to regular physical activity in a friendly, comfortable and safe environment. Throughout a 12 week programme we aim to encourage people to adopt a more active lifestyle, with unlimited access to the leisure facility of their choice. We recommend that each person should aim to take part approximately 3 times per week for maximum benefit. Every person referred will be able to take part for 12 weeks at their chosen leisure facility or Healthy Living Centre free of charge. Please see leaflet for further information on list of leisure facilities delivering Healthwise.
There are also a range of condition specific physical activity referral programmes delivered by specialist coaches across Belfast. This includes Cancer Rehabilitation Level IV, Cardiac Rehabilitation Level IV and Diabetes Type II Level IV.
Please contact bsp@bhdu.org for further information.
---
Case Studies
Maureen Sheenan Centre | The H.E.A.R.T. Project | Gerard O'Neill's Story
---
Recent News
SITless Research Pilot Programme
Diabetes Physical Activity Referral Pilot Programme