Sign up to Belfast Strategic Partnership's Lifelong Learning Charter
Our Lifelong Learning Thematic Group launched Belfast a Learning City and Learning Charter in February 2015.
We are encouraging organisations to commit to the Learning Charter's guiding principles which will help ensure all Belfast citizens have equal access to learning opportunities, at all levels and across all ages.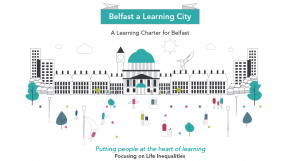 The four Lifelong Learning principles are:
Creating a learning culture for the city of Belfast that recognises and values all forms of learning.
Developing an inclusive, innovative and strategic approach to Lifelong Learning through partnership working.
Promoting collaborative working between key stakeholders that ensures equality of access to Lifelong Learning opportunities and informs excellence in the design and development of Lifelong Learning provision.
Realigning current and future skills with Northern Ireland's economic needs.
Sign the charter: 
Would your organisation like to sign-up to the Lifelong Learning charter or find out more about working with the Lifelong Learning group? If so, contact Dolores Atkinson, Project Development Outreach Officer at the Belfast Health Development Unit. Email: dolores.atkinson@bhdu.org or telephone 9050 2073.
Return to News