'On Yer Bike' is a winner!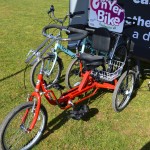 Congratulations to Cedar Foundation's 'On Yer Bike' project which collected the Healthy Lifestyle Award at this year's Belfast Sports Awards.
Supported through Active Belfast, 'On Yer Bike' is a recreational cycling club set up to support people with disabilities to lead more active lifestyles. the club is growing from strength to strength over 50 members. providing access to a range of specialised bikes for people with disabilities including mobility and visual impairments.
For more information on the 'On Yer Bike' project visit
http://www.cedar-foundation.org/find-a-service/get-involved-in-your-community/social-and-community-networking/on-yer-bike/
(pictured is Sergio Domingez from Cedar Foundation and Dame Mary Peters)