Drum Based Exercise Instructor Training
Drum Based Exercise Instructor Training
The BHSCT Health Improvement Team in partnership with LifeDock Training are offering a Drum Based Exercise Instructor course in May 2022.
Drumming has many physical, mental and emotional benefits such as increasing physical activity levels, reducing stress and enhancing overall wellbeing. The Drum Based Exercise instructor training course is a level 2 qualification, suitable for a wide range of clients and can be adapted according to the ability of your group. This fun and energising activity is perfect for day centres, nursing or residential homes, supported housing and a wide range of community settings.
What attendees need to know in advance:
This is face to face training
Venue will be risk assessed
Please feel free to wear a mask, if you feel more comfortable
You will be given a 55cm Gym ball & bucket which you will need to transport on day one and two
You will need to have space to store the ball between sessions
On day 2, after successfully completing the training, you will receive equipment worth over £200 which will include 10 exercise balls, 10 laundry baskets and 10 sets of drumsticks for delivery  (You will need space to store these items)
You will need to commit to deliver at least 3 drum based exercise programmes within the first year.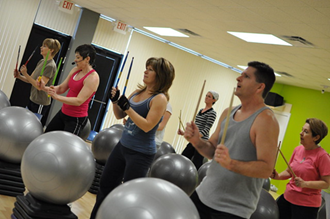 The course is scheduled for Wednesday 11th & 25th May (compulsory attendance on both days) 9.30am to 4.30pm
Location: Knockbracken Hall, Knockbracken Health Care Park, Saintfield Road, Belfast, BT8 8BH
To register for the training courses please complete the registration form below and send to ben.hanvey@belfasttrust.hscni.net before the closing date. Please note, participant numbers are limited and Belfast based deliverers will be given preference.